Hello all,
Hope this post finds you in good health and spirit.
Today we are going to show how we can allow modifications to the schema?
Please Add the SchemaUpdateAllowed registry on schema master to avoid unauthorized schema changes. Nothing more must be done unless the registry has specifically been locked down to keep schema updates from occurring on the domain controller that hosts the Schema Master FSMO role. To edit this registry setting, perform the following steps:
1. Navigate to Start > Run.
2. In the Open dialog box, type Regedit and press Enter.
3. Navigate to the following Registry key: HKLM\SYSTEM\CurrentContro1Set\Services\ NTDS\Parameters.
4. On the Edit menu, click New, then click DWORD Value.
5. Enter the following information: Value Name: Schema Update Allowed Data Type: REG_DWORD
Base: Binary
Value Data: Use a value of 1 to enable schema updates.
6. Close the registry editor.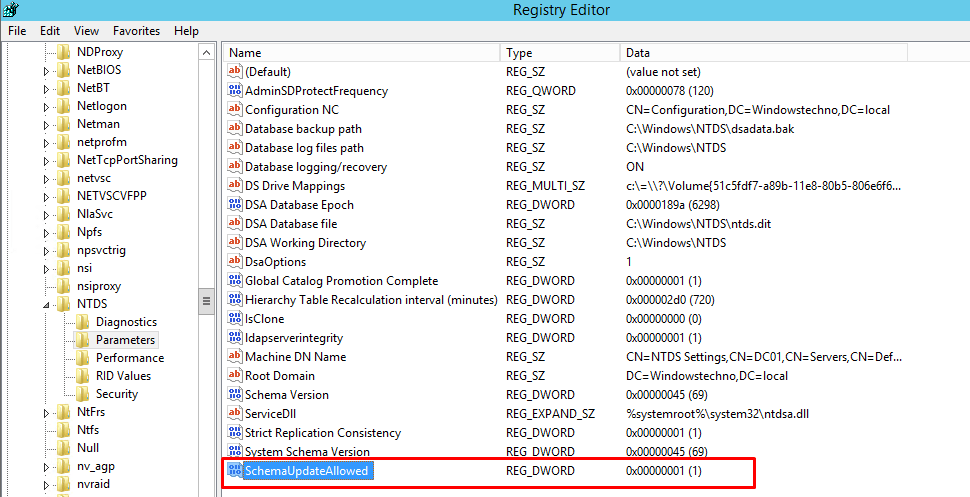 Now you can make the changes to schema partition.
So, that's all in this blog. I will meet you soon with next stuff.Have a nice day !!!
Guys please don't forget to like and share the post. You can also share the feedback on below windows techno email id.
If you have any questions feel free to contact us on admin@windowstechno.com also follow us on facebook@windowstechno to get updates about new blog posts.