By running integrity check, we can identify binary level AD database corruption. This comes as part of the Ntdsutil tool which use for Active Directory database maintenance. This go through every byte of the database file. The integrity command also checks if correct headers exist in the database itself and if all of the tables are functioning and consistent. This process also run as part of Active Directory Service Restore Mode (DRSM).
Start the server in Directory Services Restore Mode.
Once you log on with the Directory Services Restore Mode Administrator account, open a command prompt.
At the command prompt, type ntdsutil and press Enter.
Type activate instance ntds and press Enter.
From the ntdsutil: prompt, type files and press Enter.
From the file maintenance: prompt, type integrity and press Enter.
As you can see in below diagram, the utility will perform the check against the database. If any errors are reported, contact Microsoft Product Support Services to determine how you should proceed.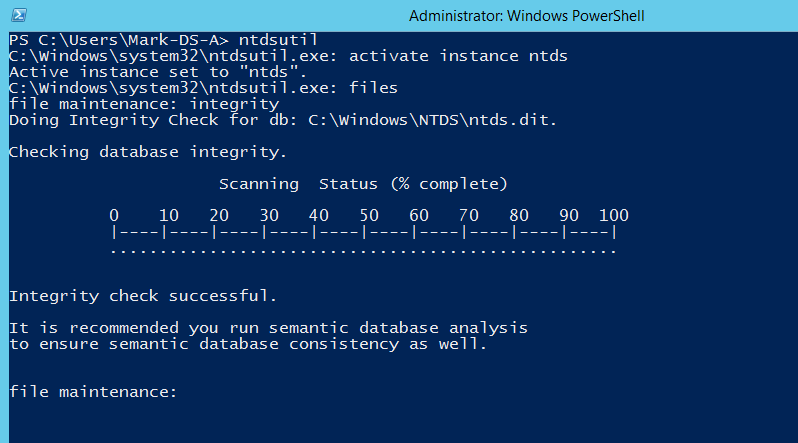 In order to exit from the utility type, quit.it is also recommended to run Semantic database analysis to confirm the consistency of active directory database contents.
In order to do it,
semantic database analysis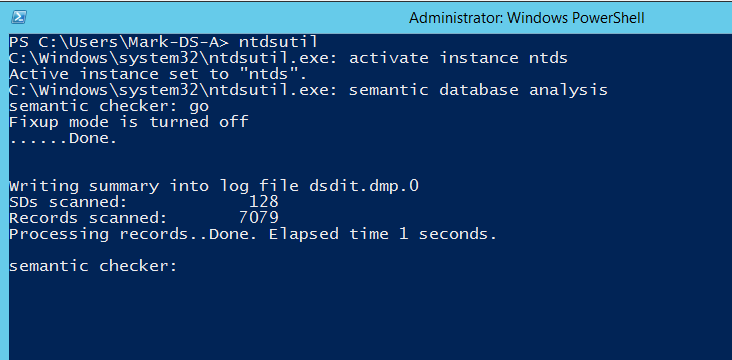 If its detected any integrity issues can type go fixup to fix the errors.After process is completed, type net start ntds to start the ntds service.
If you have any questions feel free to contact us on admin@windowstechno.com also follow us on facebook@windowstechno to get updates about new blog posts.