Hello all,
Hope this post finds you in good health and spirit.
This post is regarding how to check the RID pool in active directory or how many RID's are available in your domain.
We should know about RID master and its purpose and how it works before checking the RID pool on domain controllers.
The RID master is responsible for processing RID pool requests from all domain controllers in a particular domain. When a DC creates a security principal object such as a user or group, it attaches a unique Security ID (SID) to the object. This SID consists of a domain SID (the same for all SIDs created in a domain), and a relative ID (RID) that is unique for each security principal SID created in a domain. Each DC in a domain is allocated a pool of RIDs that it is allowed to assign to the security principals it creates. When a DC's allocated RID pool falls below a threshold, that DC issues a request for additional RIDs to the domain's RID master. The domain RID master responds to the request by retrieving RIDs from the domain's unallocated RID pool and assigns them to the pool of the requesting DC. At any one time, there can be only one domain controller acting as the RID master in the domain.
We can check the RID pool by command line. Open the command line and run the below mentioned command to get the RID pool status.
DCDIAG /Test:Ridmanager /v

Once command is executed, below output come that will show you the RID pool status.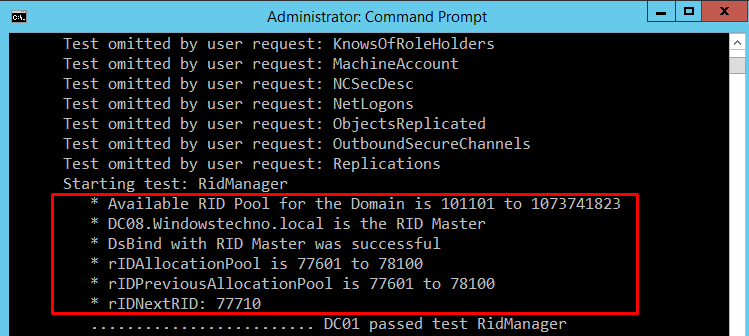 So, that's all in this blog. I will meet you soon with next stuff .Have a nice day !!!
Guys please don't forget to like and share the post. You can also share the feedback on below windows techno email id.
If you have any questions feel free to contact us on admin@windowstechno.com also follow us on facebook@windowstechno to get updates about new blog posts.