Hello Friends
Hope you are doing well and enjoying all the posts.
Today we are going to explain what is ADMT tool and how we can install and migrate objects from one domain to another domain or one forest to another forest with all attributes and ACL permission as well password.
Active Directory migration can be simplified and accelerated with the right tools. Especially when it comes to the migration of users, groups and computers. The most frequently used tools for Active Directory Migration are: ADMT and Quest Migration Manager.
The Microsoft Active Directory Migration Tool (ADMT) is a free utility administrator can use to move Active Directory objects, such as computers, users and groups, from one Windows Server Active Directory domain or forest to another. ADMT has been developed by Microsoft and can be downloaded for free. You can find the link at the end of this page. The current version of ADMT is 3.2 and must be installed on a Windows Server 2008 R2+. Please prepare an SQL instance before the installation. All necessary information is stored there.
User, groups, computer objects and permissions can be migrated to Windows systems with ADMT. By installing the tool Password Export Service, you can also migrate the passwords of the user objects. Active Directory Migration Tool supports the SID history migration, so that users can still access a variety of resources, without requiring them to be additionally authorized to the migrated account.
An Active Directory migration can be a destructive process that, if done wrong, can cause disruptions in an organization. As a best practice, administrators should perform pre-migration testing in test lab. For example, creating, migrating and verifying access for one or more test users can help reveal issues before administrators make changes in production.
Data or permissions from applications (such as Microsoft Exchange or SQL Server) cannot be migrated with ADMT.ADMT in version 3.2 supports the following Active Directory Domain Modes:
AD Domain mode 2003
AD Domain mode 2008 and 2008 R2
AD Domain mode 2012 and 2012 R2
Prerequisites for installing Active Directory Migration Tool
To install the Active Directory Migration Tool, you need the following system requirements:
Windows Server 2008, Windows Server 2008 R2, Windows Server 2012, Windows Server 2012 R2, and Windows 2016
Active Directory Migration Tool doesn't work when computers are a read-only domain controller or when they are a part of a server core configuration.
The source and the target domain should run only on one of the supported operating systems.
You need a SQL server database instance for ADMT to store data. You can either install it on your own machine or create an instance from an existing database in your network but without SQL server you can not install the ADMT tool.You can see the GUI interface of this tool as below.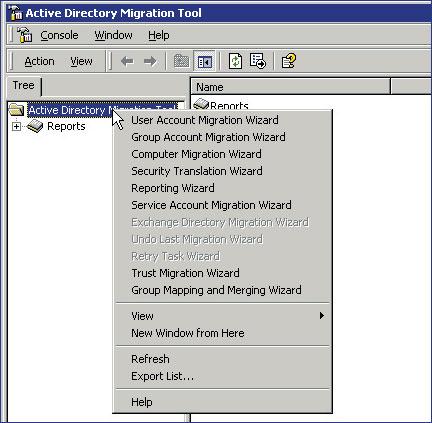 We will explain ADMT installation steps in next upcoming article and below is the ADMT download link-
Guys please don't forget to like and share the post. You can also share the feedback on below windows techno email id.
If you have any questions feel free to contact us on admin@windowstechno.com also follow us on facebook@windowstechno to get updates about new blog posts.