This article describes the symptoms, cause and resolution for resolving Active Directory replication failing with Win32 error 8418: The replication operation failed because of a schema mismatch between the servers involved.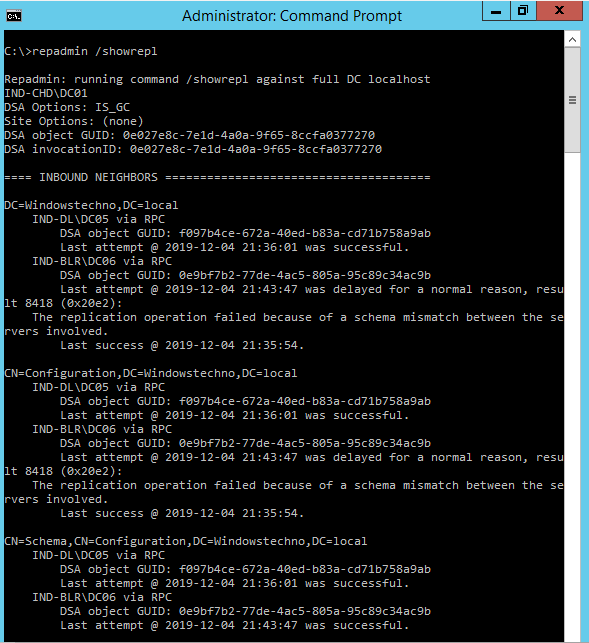 Attempts to replicate AD when schema information is not consistent between the DC partners involved will result in a "Schema Mismatch" error status. This symptom can be manifested in a number of different ways as outlined above. However the underlying cause of the error being raised can vary.
There are also scenarios where this error will be raised but there is not a mismatch in the schema information in the strictest sense. In these cases it may be that the Active Directory data being replicated does not conform to the current schema definition for the relevant object or attribute whose value is being synchronized and applied at the destination DC.
The duration of schema mismatch errors typically fall into one of two categories, transient or persistent. Within the persistent category there are some failures which can be investigated AND resolved safely.
For issues where schema replication fails due to improper attribute schema definitions .Schema Update – after an administrative schema update is likely that a schema mismatch will occur on various DC's throughout the forest. This will typically happen in a pattern that matches the AD replication topology and schedule. This behaviour is completely normal so long as the error state is transient*.
The duration for which schema mismatch may be logged by a given destination DC should last no more than one replication cycle for any given partner. DC's with only one partner should only see the error once while bridge head dc's may see the error multiple times, once for each partner.
A reasonable estimate of the acceptable time limit transient failure is forest convergence period* x 1.5.
*The largest amount of time taken for an object update to replicate from one DC to all other DCs in the forest.
n some scenarios the schema mismatch error will persist indefinitely and intervention is required to investigate, identify the underlying trigger and resolve. Some scenarios present as known issues while in other the Schema Mismatch is purely a side effect of other blocking issues which prevent it from self-resolving through normal replication.
In order to resolve an issue where schema mismatch is cited it is critical to understand the scenario in which the is error is being raised as it may influence the data collected. The common scenarios are:
Recent Schema Update
DC Promotion
Normal Replication
Verify the Schema Versions
The current schema version can be read from two places on any given DC – the registry and in the Active Directory itself. In normal operation the two values should be in sync and should correctly reflect the Schema Version of the forest as defined by the schema FSMO.
Note: Only Microsoft provided updates of the Active Directory Schema will update the SchemaVersion number.
Reference Schema Version Values
| | |
| --- | --- |
| Operating System | Schema Version |
| Windows 2000 | 13 |
| Windows Server 2003 | 30 |
| Windows Server 2003 R2 | 31 |
| Windows Server 2008 | 43 |
| Windows Server 2008R2 | 47 |
| Windows Server 2012 | 56 |
| Windows Server 2012R2 | 69 |
| Windows Server 2016 | 87 |
In the Registry:
HKEY_LOCAL_MACHINE\System\CurrentControlSet\Services\NTDS\Parameters\SystemSchemaVersion
Possible Resolution
In the scenario where the following conditions apply:
 The AD schema has been recently updated One or more partners of a DC is reporting a schema mismatch for an extended period The registry and AD schema versions on the source DC are in sync and match the expected forest wide version.
It is possible that a reboot of the source DC will resolve the replication failures. The underlying cause is thought to be failure to correctly reload the in memory version of schema after the schema update has been received.
Please do not panic if you made any changes in AD schema . We have to wait for some time to replicate these changes to all domain controllers in domains. or you can force the replication between domain controllers.
In my organization, We did the some changes in schema partition and post that we did the health check for inbound replication and found there was some schema mismatch error in all domain controllers except schema master. We have wait to complete the replication then check the status.
After some time it has been replicated to all domain controllers and clear the schema mismatch error.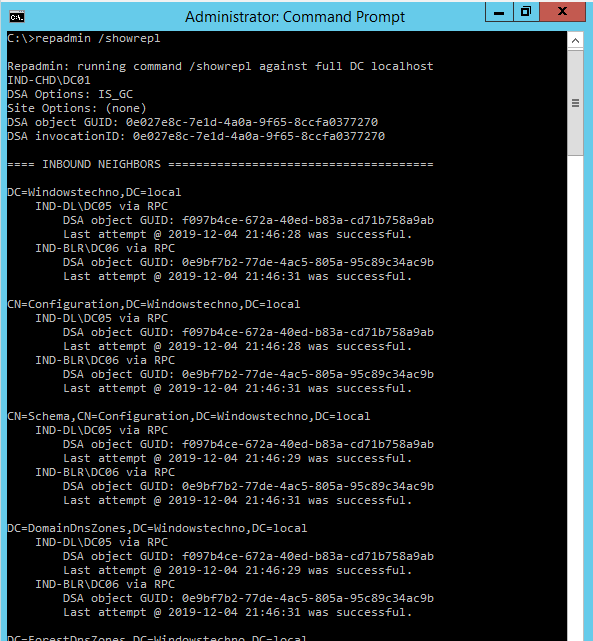 So, that's all in this blog. I will meet you soon with some other stuff. Have a nice day !!!
Guys please don't forget to like and share the post. You can also share the feedback on below windows techno email id.
If you have any questions feel free to contact us on admin@windowstechno.com also follow us on facebook@windowstechno to get updates about new blog posts.