Hello all,
Hope this post finds you in good health and spirit.
This post is regarding ntds.dit database file and where its held and what other files are related to Active Directory.
By default, AD Database is saved in %systemroot%/ntds but we can save in other drive as well. You can see other files also in this folder.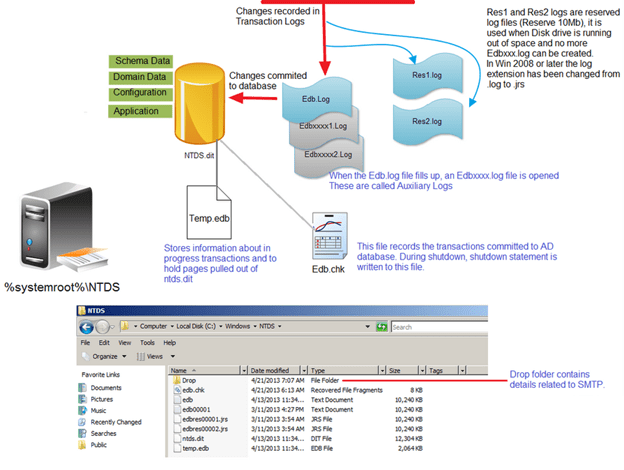 Ntds.dit is the main AD database file. NTDS stands for NT Directory Services. The DIT stands for Directory Information Tree. The Ntds.dit file on a particular domain controller contains all naming contexts hosted by that domain controller, including the Configuration and Schema naming contexts. A Global Catalog server stores the partial naming context replicas in the Ntds.dit right along with the full Domain naming context for its domain.
These are the main files controlling the AD structure.
ntds.dit
edb.log
res1.log
res2.log
edb.chk
We will explain in details about these files in upcoming post.
So, that's all in this blog. I will meet you soon with next stuff .Have a nice day !!!
Guys please don't forget to like and share the post. You can also share the feedback on below windows techno email id.
If you have any questions feel free to contact us on admin@windowstechno.com also follow us on facebook@windowstechno to get updates about new blog posts.