Windows NT 3.5 Server
Windows NT 3.5 is an operating system developed by Microsoft, released on September 21, 1994. It is the second release of Windows NT.
One of the primary goals during Windows NT 3.5 development was to improve the operating system's performance.
Windows NT 3.5 comes in two editions: NT Workstation and NT Server. They respectively replace the NT and NT Advanced Server editions of Windows NT 3.1. The Workstation edition allows only 10 concurrent clients to access the file server and does not support Mac clients.
Windows NT 3.5 includes integrated Winsock and TCP/IP support. (Its predecessor, Windows NT 3.1, only includes an incomplete implementation of TCP/IP based on the AT&T UNIX System V "STREAMS" API.) TCP/IP and IPX/SPX stacks in Windows NT 3.5 are rewritten.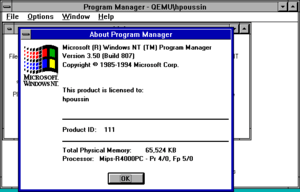 If you have any questions feel free to contact me on admin@windowstechno.com also follow me on facebook @windowstechno to get updates about new blog posts.