Windows NT Server 4.0
Windows NT 4.0 is an operating system that is part of Microsoft's Windows NT family of operating systems. It was released to manufacturing on 31 July 1996. It was Microsoft's primary business-oriented operating system until the introduction of Windows 2000. Workstation, server and embedded editions were sold; all editions feature a graphical user interface similar to that of Windows 95.
Microsoft ended mainstream support for Windows NT 4.0 Workstation on 30 June 2002 and extended support on 30 June 2004, while Windows NT 4.0 Server mainstream support ended on 31 December 2002 and extended support on 31 December 2004. Both editions were succeeded by Windows 2000 Professional and Server, respectively.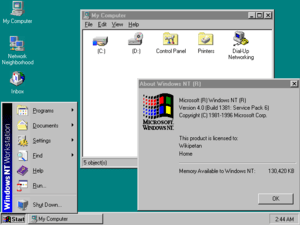 If you have any questions feel free to contact me on admin@windowstechno.com also follow me on facebook @windowstechno to get updates about new blog posts.