Action1 (www.action1.com) is free endpoint security solution that enables you to discover installed software and manage workstations regardless of their physical location. Action1 is packaged with enterprise-scale intelligent features such as search queries, real-time alerts, ability to run scripts on remote computers and many more.
Unlike many other applications that had a desktop version first, Action1 was designed for Cloud from the very beginning. Thanks to scalable Cloud-based architecture, Action1 can manage an almost unlimited number of workstations without delays and interruptions. As your infrastructure grows, Action1 expands and scales the backend for you.

Real-time security
Action1 is designed to pull data from your endpoints in real-time. All you see in your browser is happening right now and is up-to-date. Since Action1 does not rely on cached or previously collected data, you can be sure that you are seeing the latest information about your endpoints.
On top of that, "plain English" search queries make it easier to monitor the network and exercise security controls. Try typing something like "installed software" and you will immediately get a complete inventory of software products installed on all devices across your network.

Analysts and security officers will definitely benefit from CSV and HTML export feature.

Remote management
Action1 comes with a unique set of remote management capabilities including but not limited to patch deployment, task scheduling, and ability to run PowerShell scripts. What Action1 really does is takes the hassle out of system administrator's chores.
With the help of smart filters, the administrator can identify an endpoint that needs attention, and then install or uninstall software remotely, manage local users, block USB devices, or stop remote processes. It does not matter if a workstation is in the same physical network or overseas, in your corporate Active Directory domain or remote. Action1 will even take care of workstations that are turned off at the moment and apply changes to them later.
Action1 is specifically designed to help administrators automate installation and uninstallation procedures. It offers much more than popular wmic or psexec tools when it comes to streamlining software deployment. For example, with Action1 it is super easy to filter workstations by OS or processor architecture, and then roll out software updates on multiple machines at the same time.

The administrator can choose to install MSIs or EXEs from a network share or URL. The library of the most popular installer packages is at your disposal as well. The administrator can control the deployment process up to tiniest details and define if a computer reboot is required, set the waiting time, and so much more.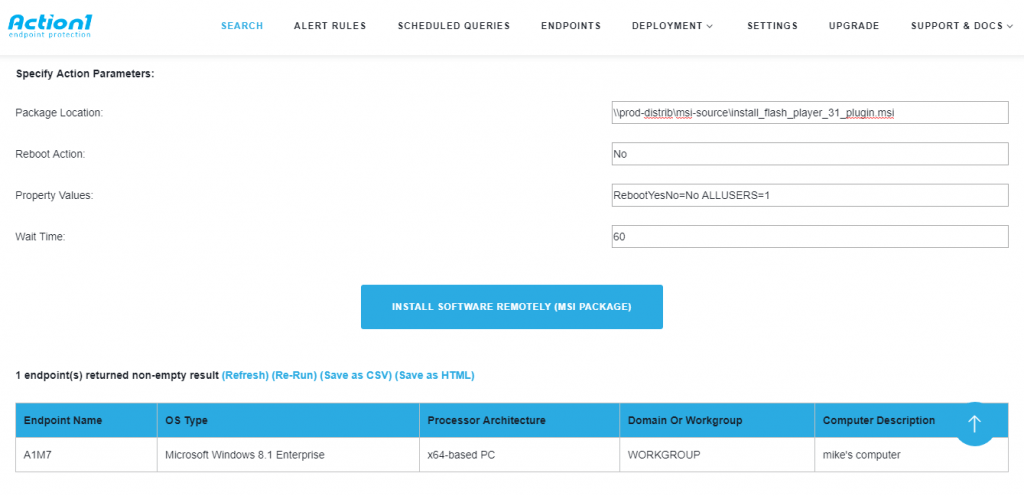 Alerting
Action1 expertise goes beyond remote administration and endpoint management. The product provides insights on what is going on in your network. It can trigger alerts to notify you about important changes and potentially harmful actions, for example, new software installation or USB usage. To make things easier, Action1 is shipped with the most helpful alerts but you can always create new alert rules based on search queries or tailor existing rules to your needs.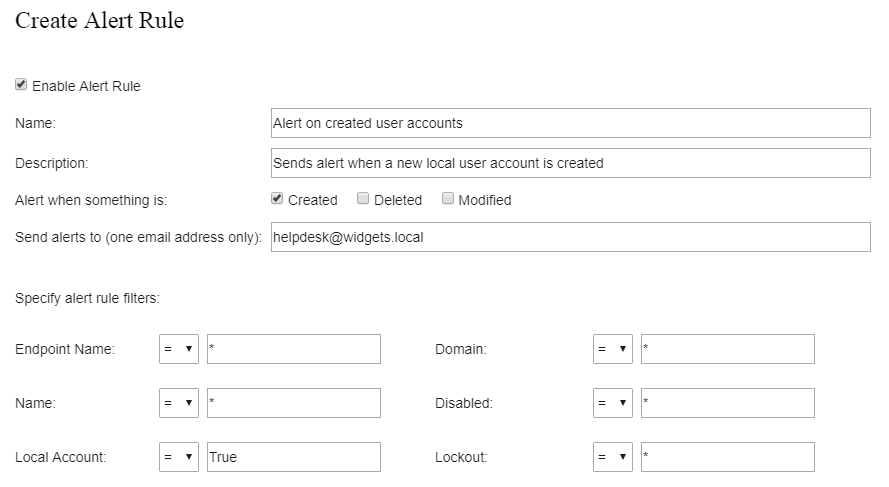 Summary
Action1 can be a great tool of choice for system administrators who are looking for a way to automate their workflows and improve endpoint management in their organization. At the same time, security analysts and IT officers will find alerting and queries helpful for monitoring network health state. Action1 is available as an annual subscription or as a free version with limited functionality: https://www.action1.com/free_edition.html
If you have any questions feel free to contact us on admin@windowstechno.com also follow us on facebook@windowstechno to get updates about new blog posts.