Hello All,
Hope this post finds you in good health and spirit.
This post is about Outbound replication.if you are implementing the major changes to active directory like extending the schema version. it is recommended that you should disable the outbound replication on schema master domain controller. After disabling the replicating, do the changes and test the changes if you find that changes are working perfectly then enable the outbound replication
To Start outbound replication for a specific DC, Use this command

When your replication is enable, warning events 1116 will be generated from source NTDS General will be logged in the Directory Service event log.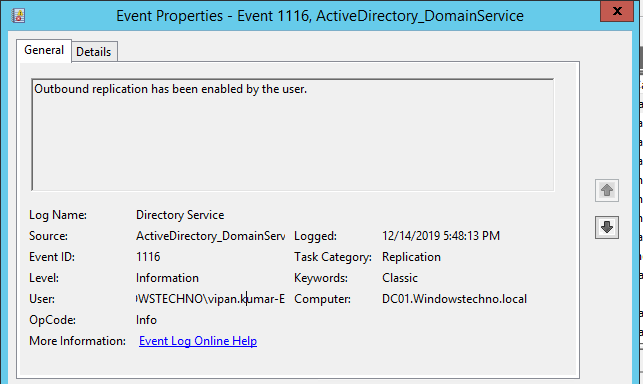 So, that's all in this blog. I will meet you soon with next stuff .Have a nice day !!!
Guys please don't forget to like and share the post. You can also share the feedback on below windows techno email id.
If you have any questions feel free to contact us on admin@windowstechno.com also follow us on facebook@windowstechno to get updates about new blog posts.