Windows Server 2008 R2
Windows Server 2008 R2 is a server operating system produced by Microsoft. It was released to manufacturing on July 22, 2009 and became generally available on October 22, 2009.
Enhancements include new functionality for Active Directory, new virtualization and management features, version 7.5 of the Internet Information Services web server and support for up to 256 logical processors. It is built on the same kernel used with the client-oriented Windows 7, and is the first 64-bit–only operating system released from Microsoft.
Seven editions of Windows Server 2008 R2 were released: Foundation, Standard, Enterprise, Datacenter, Web, HPC Server and Itanium, as well as Windows Storage Server 2008 R2.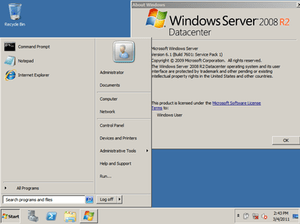 If you have any questions feel free to contact me on admin@windowstechno.com also follow me on facebook @windowstechno to get updates about new blog posts.