Hello Readers
Hope you are doing well and enjoying all the posts.
Today we are going to explain about Server service. what it is? How does it work and what will be impact on domain controllers or servers if this service goes stopped.
Server Service is a component of the Microsoft Windows Server operating systems that allows a server to share file and print resources with clients over the network. When a re-director on a client requests a shared resource from a server, the Server service on the server responds and routes the resource to the client. Server Service also known as LanmanServer .
How Does it work
The Server Service allows you to share files and printers on your computer. Without the service you can't share any resources.
If you disable the service, you can prevent others from accessing your WorkStation from the network – in fact, it won't even show up under network neighborhood.
The Server Service receives 'jobs'(instructions) from applications and computers that are using the MS Network Client and NetBIOS redirectors.
The Server service consists of two files:
Server (or SRV): A service that runs within the general Service Control Manager (services.exe) process
Srv.sys: A file system driver that operates in kernel mode and handles all low-level functions of the Server service, such as file reads and writes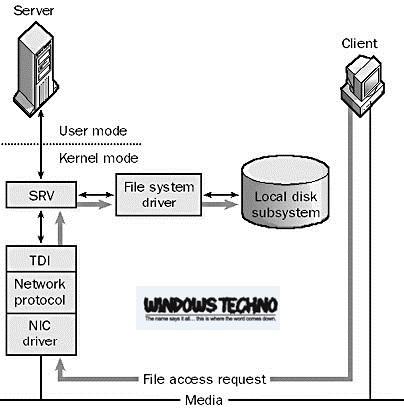 If you cannot see a server's shared folders and printers in Network Neighborhood, check to see whether the Server service is still running. Try stopping and starting the service by using the Windows 2000 Services snap-in or the Windows NT Services utility in Control Panel.
Guys please don't forget to like and share the post. You can also share the feedback on below windows techno email id.
If you have any questions feel free to contact us on admin@windowstechno.com also follow us on facebook@windowstechno to get updates about new blog posts.