Windows 10
Windows 10 is a series of personal computer operating systems produced by Microsoft as part of the Windows NT family of operating systems. It was released on July 29, 2015.Windows 10 receives new releases on an ongoing basis, which are available at no additional cost to users. Devices in enterprise environments can receive these updates at a slower pace, or use long-term support milestones that only receive critical updates, such as security patches, over their ten-year lifespan of extended support.Windows 10 received mostly positive reviews upon its original release in July 2015. Critics praised Microsoft's decision to provide a desktop-oriented interface in line with previous versions of Windows, contrasting the tablet-oriented approach of 8, although Windows 10's touch-oriented user interface mode was criticized for containing regressions upon the touch-oriented interface of Windows 8. Critics also praised the improvements to Windows 10's bundled software over Windows 8.1, Xbox Live integration, as well as the functionality and capabilities of the Cortana personal assistant and the replacement of Internet Explorer with Microsoft Edge. However, media outlets have been critical of changes to operating system behaviors, including mandatory update installation, privacy concerns over data collection performed by the OS for Microsoft and its partners and the adware-like tactics used to promote the operating system on its release
Features
Windows 10 harmonizes not in citation given] the user experience and functionality between different classes of device, and addresses shortcomings in the user interface that were introduced in Windows 8. Windows 10 Mobile, the successor to Windows Phone 8.1, shares some user interface elements and apps with its PC counterpart.The Windows Run time app ecosystem was revised into the Universal Windows Platform (UWP). These universal apps are made to run across multiple platforms and device classes, including smartphones, tablets, Xbox One consoles, and other compatible Windows 10 devices.
User interface and desktop
A new iteration of the Start menu is used on the Windows 10 desktop, with a list of places and other options on the left side, and tiles representing applications on the right. The menu can be resized, and expanded into a full-screen display, which is the default option in Tablet mode. A new virtual desktop system was added. A feature known as Task View displays all open windows and allows users to switch between them, or switch between multiple workspaces.
System security
Windows 10 incorporates multi-factor authentication technology based upon standards developed by the FIDO Alliance.The operating system includes improved support for biometric authentication through the Windows Hello platform. Devices with supported cameras (requiring infrared illumination, such as Intel RealSense) allow users to log in with iris or face recognition, similarly to Kinect. Devices with supported readers allow users to log in through fingerprint recognition. Support was also added for palm-vein scanning through a partnership with Fujitsu in February 2018. Credentials are stored locally and protected using asymmetric encryption.
Command line
Win32 console windows can now be resized without any restrictions, can be made to cover the full screen by pressing Alt+↵ Enter, and can use standard keyboard shortcuts, such as those for cut, copy, and paste. Other features such as word wrap and transparency were also added. These functions can be disabled to revert to the legacy console, if needed.The Anniversary Update adds Windows Subsystem for Linux, which allows the installation of a user space environment from a supported Linux distribution that runs natively on Windows. The subsystem translates Linux system calls that the Linux system uses to those of the Windows NT kernel.
Storage requirements
To reduce the storage footprint of the operating system, Windows 10 automatically compresses system files. The system can reduce the storage footprint of Windows by approximately 1.5 GB for 32-bit systems and 2.6 GB for 64-bit systems. The level of compression used is dependent on a performance assessment performed during installations or by OEMs, which tests how much compression can be used without harming operating system performance.
Online services and functionality
Windows 10 introduces a new default web browser, Microsoft Edge. It features a new standards-compliant rendering engine forked from Trident, annotation tools, and offers integration with other Microsoft platforms present within Windows 10.Internet Explorer 11 is maintained on Windows 10 for compatibility purposes, but is deprecated in favor of Edge and will no longer be actively developed.
Windows 10 incorporates Microsoft's intelligent personal assistant, Cortana, which was first introduced with Windows Phone 8.1 in 2014. Cortana replaced Windows' embedded search feature, supporting both text and voice input. Many of its features are a direct carryover from Windows Phone, including integration with Bing, setting reminders, a Notebook feature for managing personal information, as well as searching for files, playing music, launching applications and setting reminders or sending emails. Cortana is implemented as a universal search box located alongside the Start and Task View buttons, which can be hidden or condensed to a single button.
Multimedia and gaming
Windows 10 provides heavier integration with the Xbox ecosystem. Xbox SmartGlass is succeeded by the Xbox app, which allows users to browse their game library (including both PC and Xbox console games), and Game DVR is also available using a keyboard shortcut, allowing users to save the last 30 seconds of gameplay as a video that can be shared to Xbox Live, OneDrive, or elsewhere. Windows 10 also allows users to control and play games from an Xbox One console over a local network.The Xbox Live SDK allows application developers to incorporate Xbox Live functionality into their apps, and future wireless Xbox One accessories, such as controllers, are supported on Windows with an adapter. Microsoft also intends to allow cross-buys and save synchronization between Xbox One and Windows 10 versions of games; Microsoft Studios games such as ReCore and Quantum Break are intended as being exclusive to Windows 10 and Xbox One.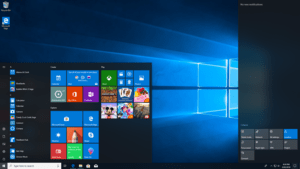 If you have any questions feel free to contact me on admin@windowstechno.com also follow me on facebook @windowstechno to get updates about new blog posts.