Windows 2000
Windows 2000 is an operating system that was produced by Microsoft as part of the Windows NT family of operating systems. It was released to manufacturing on December 15, 1999, and launched to retail on February 17, 2000. It is the successor to Windows NT 4.0.
Four editions of Windows 2000 were released: Professional, Server, Advanced Server, and Datacenter Server; the latter was both released to manufacturing and launched months after the other editions. While each edition of Windows 2000 was targeted at a different market, they shared a core set of features, including many system utilities such as the Microsoft Management Console and standard system administration applications.
Microsoft marketed Windows 2000 as the most secure Windows version ever at the time; however, it became the target of a number of high-profile virus attacks such as Code Red[16] and Nimda. For ten years after its release, it continued to receive patches for security vulnerabilities nearly every month until reaching the end of its lifecycle on July 13, 2010.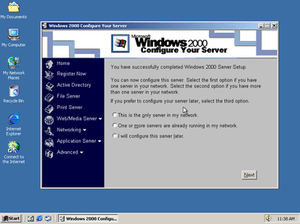 If you have any questions feel free to contact me on admin@windowstechno.com also follow me on facebook @windowstechno to get updates about new blog posts.