Windows 2000
Windows 2000 is an operating system that was produced by Microsoft as part of the Windows NT family of operating systems. It was released to manufacturing on December 15, 1999, and launched to retail on February 17, 2000. It is the successor to Windows NT 4.0.
Four editions of Windows 2000 were released: Professional, Server, Advanced Server, and Datacenter Server;the latter was both released to manufacturing and launched months after the other editions.While each edition of Windows 2000 was targeted at a different market, they shared a core set of features, including many system utilities such as the Microsoft Management Console and standard system administration applications.
Windows 2000 introduces NTFS 3.0, Encrypting File System, as well as basic and dynamic disk storage. Support for people with disabilities was improved over Windows NT 4.0 with a number of new assistive technologies, and Microsoft increased support for different languages and locale information. The Windows 2000 Server family has additional features, most notably the introduction of Active Directory, which in the years following became a widely-used directory service in business environments.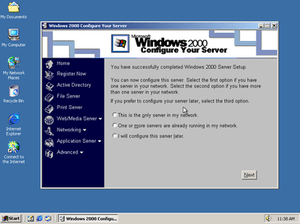 If you have any questions feel free to contact me on admin@windowstechno.com also follow me on facebook @windowstechno to get updates about new blog posts.